There used to be a time when owning a car meant having foldable maps for different locations in the glove compartment and a massive collection of tools for unwanted emergencies under the hood. Those days are gone because the phone that you carry along with you is your best driving companion thanks to the mobile apps in it. 
Thanks to the advancement of technology, there are a plethora of apps out there and picking out the apps that are worth your phone storage can be really time-consuming. This is why we've created a helpful guide on mobile apps that you must have in Malaysia if you own a car.
Steer Your Way Through Traffic with These Best Navigation Apps
Malaysian roads can pose a challenge for many drivers because the roads are always changing or under construction, while the signs aren't always clear. One wrong turn can result in a significantly longer journey, especially in bustling cities like Kuala Lumpur. Navigation apps take away the hassle of making these wrong turns and reroutes you quickly if you make one.
Waze
Waze is an app that relies on users for information and since most Malaysians are on it, you get real-time help. This navigation app goes beyond just navigating, it also offers traffic updates, finds the fastest routes to avoid traffic, as well as flags police roadblocks, traffic cameras, and even potholes ahead of time. 
While that's just scratching the surface, you can also share your real-time location with your friends and find the nearest restaurants, petrol stations, plus rest stops while driving. Plus, with their cool voice packs, you can have Harith Iskandar or Batman navigating the roads for you.
The app can be downloaded on both Apple App Store and Google Play
Google Maps
Another popular alternative in Malaysia is Google Maps. This app is a free online map from Google that is accessible both on browser and mobile app. You can use it to get step-by-step directions, avoid traffic with an alternative route, and it alerts you when there is a stalled by the roadside. 
On top of the normal navigation guide, you can also use Google Maps to find information quickly, such as the name of a location, retail operating hours and  the website link. Google Maps is not limited to just drivers, because it can be used for pedestrians too as it shows you a safer route to walk to your destination.
The app can be downloaded on both Apple App Store and Google Play.
Stress-Free Packing with Useful Parking Apps
Finding parking, especially in malls and crowded areas, can be time-consuming, and if that's not enough, getting summoned or even, losing your autopay tickets are the biggest headaches. But now that everything has been migrated online, you don't have to worry about running to your car every hour to replace your parking tickets as it can be done easily on your mobile applications. 
Parking apps like Flexi Parking, Wilayah Parking, MCash, and EZ Smart Park are some of the must-have parking apps if you are in Kuala Lumpur. You can find out more about these apps and other parking apps for other states here.
Avoid Panicking with Emergency Car Servicing Apps
Car maintenance is usually the most important aspect of owning a car. If you find the whole process of locating and going to the workshop a hassle, there are mobile apps that can bring these workshops to you. Even if your car breaks down and leaves you stranded on the side of the road, these are the apps you need for any kind of servicing emergencies.
Carput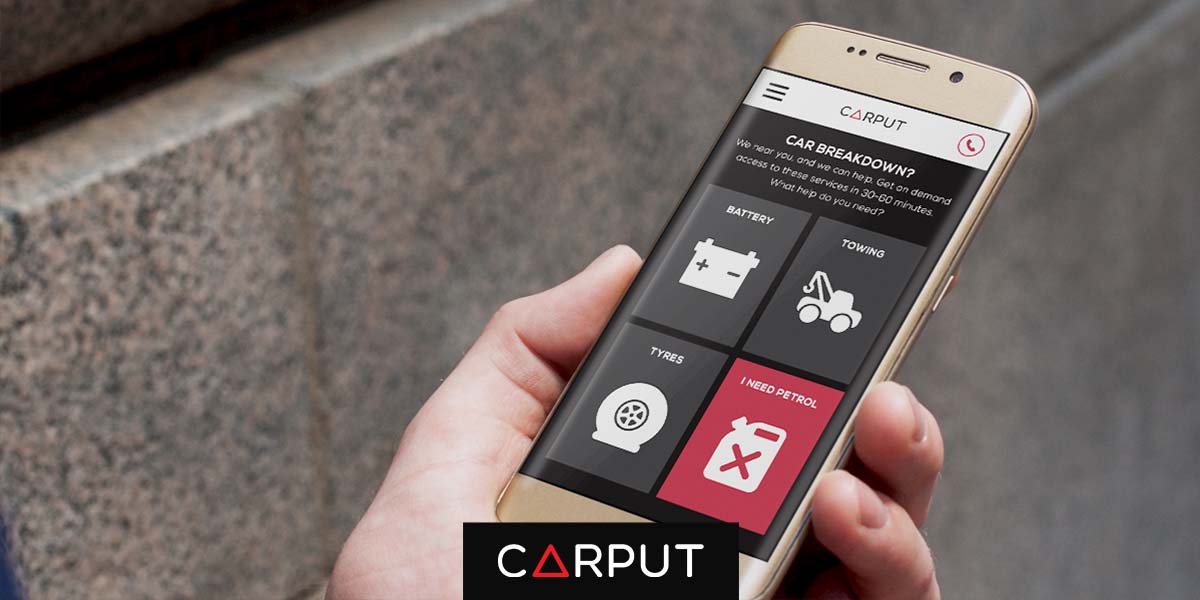 image source: Carput
Carput is an emergency roadside assistance app that allows you to request help in case your car breaks down. This on-demand roadside assistance app helps by connecting you to a Carput roadside professional who will rush over in 45 minutes or less. Carput can help you with a variety of car issues with services including battery delivery, jumpstarting your battery, flat tire replacement, petrol delivery, and offer towing services for when your car needs a trip to the workshop.
The app can be downloaded on both Apple App Store and Google Play.
Serv
Serv is an on-demand car servicing platform that helps you maintain your car by connecting you with nearby mechanics. The app includes services such as spare part replacements, as well as engine and transmission oil change. You can even request a report on your car's current health. Just like any other service app, you can access all the information on Serv including the name of the mechanic, the estimated time of arrival, price quotes, and even reviews on the mechanic you choose. This app currently operates only in Klang Valley, Putrajaya, and Cyberjaya.
The app can be downloaded on both Apple App Store and Google Play.
Carpit
image source: Carpit's Facebook
If changing your tires is troublesome to you, why not let the professionals do it for you via Carpit. You don't have to "tire" yourself out as they have an ever-expanding database of car models and their respective tire sizes, while the app matches you with the closest reputable tire shops, who can come pick up your car at your convenience. The app also keeps track of your tire service records and can provide reminders for when you need your next service.
The app can be downloaded on both Apple App Store and Google Play.
Pomen
Pomen is a 24-hour seven-days a week car assistance app that provides safe and reliable roadside assistance. The entire process on the app is transparent with features such as real-time tracking, flat-rate pricing, no-hidden additional costs, and free membership. One of the key features of this app is that you can register family members on your profile, who can keep tabs on your status when you encounter g car troubles. Pomen is currently only available in Klang Valley, Ipoh, Kedah, Melaka, Negeri Sembilan, and Johor.
The app can be downloaded on both Apple App Store and Google Play.
Drive an Electric Car? Here is Car Charging App You Need ChargEV
image source: evstation.my
For electric cars, knowing where your nearest charging stations are important if you don't want your car to run out of power and leave you stranded by the roadside. ChargEV is a mobile app that provides the location of the nearest EV charging stations, the charging speed as well as price. Though electric cars are not as popular as conventional cars in Malaysia, you can find over 300 ChargEV charging stations all over the country. Additionally, there are also over 60 Petronas stations located along major highways that are equipped with chargEV charging stations for the convenience of customers. ChargEV is compatible with brands like Mercedes-Benz, Hyundai, Tesla, Nissan, BMW, and Volvo.
The app can be downloaded on both Apple App Store and Google Play. 
Download E-Hailing Apps if You Need a Ride
E-hailing apps are the next best thing compared to taxis or public transportation. If you think these apps are only for those without a car, think again. Instead, these apps can save you so much time and money when it comes to moving around in high-traffic areas. For example, if you want to grab a quick bite,  heading to the airport, or even if you don't want to be stuck in a tiring traffic jam, let someone else drive you with these e-hailing apps.
Grab
Grab is a common, everyday app used in Malaysia that first started out as a service that offers rides, lifts, and on-demand taxi service with flat rate fees based on the car, the city, as well as the wait times. If you've been cheated or rejected by local taxis, Grab allows you to book a ride from your mobile application by inputting your location and destination. Then, you wait for your ride and pay for it through the app or by cash –  everything is stated up front in the app, including the driver's name, the card's information, and the fees. Now, you can even order food, groceries and do deliveries via this Grab.
The app can be downloaded on both Apple App Store and Google Play.
MyCar
MyCar is pretty similar to Grab and is sometimes a cheaper alternative as well. While Grab might charge you three times more during rush hours, peak hours, and heavy downpours, MyCar's charges are always fixed. One of the downsides that some might face when ordering a MyCar ride is the long waiting time as this app does not have that many drivers around.
The app can be downloaded on both Apple App Store and Google Play.
Do remember to charge your battery before you leave or carry along a power bank with you, as some of these mobile apps are known to drain your battery. We hope these apps will be able to help you drive with ease and confidence. 
Also Read: Road and Safety Sign Boards in Malaysia
For any other used car services and news, do check Carsome out! You can sell your used car at Carsome for the best price, fast payment, and no paperwork hassle. Check the website today to know more.