2020, the year every millennial in Malaysia has been waiting for. Why? Because we thought that this year would be the year that total modernization takes place, where the whole world becomes futuristic with robots, flying cars and advanced floating cities.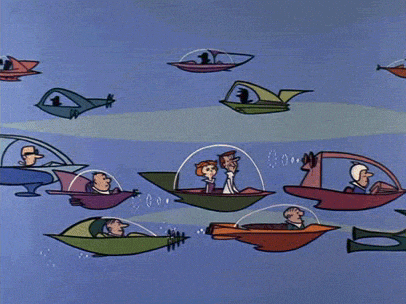 But what we got in 2020 is nothing close. Rather, we got forest fires, a pandemic, ongoing wars, and the biggest economic crisis ever! But fret not, because behind every dark cloud is a silver lining, or a flying car, you never know.
Though we may not be filling our skies with flying vehicles in the near future, Japan has actually made the dream of driving a flying car possible with the introduction of SD-03, an electrical vertical takeoff and landing vehicle.
Japan Makes the Flying Car Dream Come True
The only way we would ever be able to fly on our own (especially now with Covid-19 and social distancing) without Tinkerbell's magic flying dust is with a flying car and thanks to Japan's modern technology, we MIGHT not need airplanes any longer. SkyDrive is one of the many companies in Japan that are trying their best to roll out the very first flying car into the world's automobile market. Their success prototype SD-03 made headlines when it flew off the ground and stayed up in the air for 4 minutes straight.
The vehicle has one seat and operates with eight motors and two propellers on each corner. It lifted about 3 meters (about 10 feet) into the air and was operated by a pilot, as mentioned by the company. There were various prototypes designed 5 years ago with fixed wings but the SD-03 is one of the most compact in size and lighter in weight compared to the others. It uses eVTOL which is a method of taking off and landing vertically from destination A to destination B. The usage of a flying car is also said to decrease the congestion rate in airports and highways in the future.
Tomohiro Fukuzawa, the CEO of SkyDrive, hopes that the success of the flying car would convince the general public that this can be made into a mode of transportation in the future that is both secured and safe at the same time. He also hopes that the car might be fully operational for the automobile market in 2023.
Malaysia, Wawasan 2020, and Flying Cars
Now, going back to Malaysia and the year 2020 being all futuristic. If you don't know why there were lots of memes floating around social media about flying cars on the first day of 2020, it all started back in 1991 when Malaysian Prime Minister, Tun Dr. Mahathir Mohamad unveiled Vision 2020 (or better known as Wawasan 2020) which outlined several policies that looked to enhance the economic, social well-being, education, political stability and psychological balance of Malaysians.
image source: Mashable SE Asia
But why floating cars you might ask? Back in the 90s when the 'Wawasan 2020' was announced, it also made its way to the schooling system and students were asked to describe their take on this. Majority would describe it mainly with flying cars, robots, and futuristic cities (one that would look similar to Wakanda). Hence the meme.
Tengok member aku, dia da ada kereta terbang 🤘 pic.twitter.com/l0Y9MMWeJY

— zakwan 🇲🇾🏴 (@benzaynudeen) December 31, 2019
Malaysia to Introduce its own Flying Car
Malaysia also flew on the flying car bandwagon with their first flying car prototype – Super Drone. This prototype was developed by a company called EastCap Bhd in a strategic collaboration with EHang Intelligent Equipment (Guangzhou) and Strong Rich Holdings Limited. This collaboration aims to market, conduct operations, and maintain Super Drones in the country in the long run. The Super Drone uses a 16-blade fan configuration to provide the ability to fly and land vertically. This model can carry two passengers at a time.
Malaysia's first flying car prototype will be driven by local technology. It is built by a Japanese-based Malaysian company that specializes in aerospace, drones, UAVs, and national cars. The project, which is expected to cost around one million ringgit, was developed for the transport agriculture, medical and security sectors. The UAS EHang 216 Super Drone (EH216) is expected to make its first flight to the Maldives following a failure to obtain flight test approval from the Civil Aviation Authority of Malaysia (CAAM).
So, what do you think? Do you think you would be able to drive or ride a flying car in the future? Before that, you would need to sell off your current car to make space for that, and the best place to sell it off is to Carsome. Carsome is the one stop center that buys and sells quality cars without much hassle. With 175 inspection points, you can get your car sold in an hour. Do check out the website to know more.